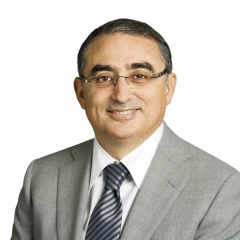 Ely Michel Ruimy
Mr. Ruimy founded the ÆRIUM Group in 1988 and currently serves as Chairman. Since its inception, he has directed and overseen all aspects of the group's activities, including its strategy and investment policy. He is also the founder of the group's French business, Groupe Léonard de Vinci.
Formerly, Mr. Ruimy ran Württemberger Hypo Finance & Services (WHFS), a commercial mortgage entity representative in France of leading German commercial real estate lender Württemberger Hypo Bank. From 1986 to 1988, Mr. Ruimy ran Groupe GRC's new development business where he was appointed as Managing Director. At GRC he supervised the development of regional shopping centres and the execution of commercial asset securitisation and sale advisory assignments.
Mr. Ruimy holds a BS in Economics and Management from the University of Nice and an MBA and PhD from the University of Paris Dauphine.